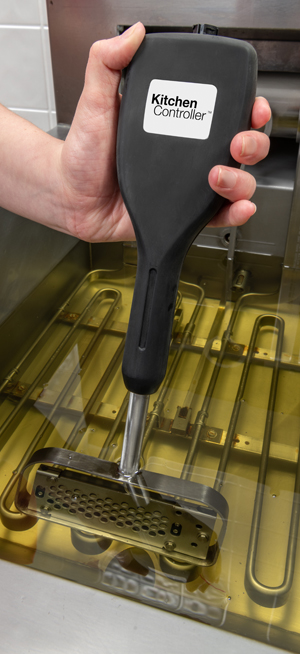 Frontline International and Cargill are pleased to announce the Kitchen Controller™ automated oil management system, designed to provide customers a smarter, easier, and cost-efficient way to maintain fry oil quality for the crispy, great tasting food that keeps customers coming back.
The Kitchen Controller leverages Frontline International's highly engineered equipment and Smart Oil Management® expertise and Cargill's deep knowledge of the foodservice industry to provide foodservice operators with an integrated, intelligent approach to oil management. Examples include informing fresh oil top-off, filtration intervals, and precisely when to dump oil. The user-friendly touchpad connects wirelessly to the system to easily view metrics, optimize costs, and assess oil quality—at any time.

There was an unmet need in the industry for end-to-end oil management. There are competitors in the oil space that provide oil products. Other competitors provide bulk oil supply and used oil collection. Still others provide oil-quality data with limited actions or recommendations. The Kitchen Controller system brings to market a product that meets ALL of the customer's needs. Finally, a true end-to-end solution!