COMPARE US!
We are proud to be in this business, which ultimately solves many kitchen-related problems. We are most proud of our role improving worker safety.
There are many fine makers of products related to fryer oil management. Any fryer automation equipment will, to some degree employee safety. Below, we offer a comparison of our products versus others, so that you can make the best, most informed decision about which cooking oil monitoring and management company is best suited to your needs.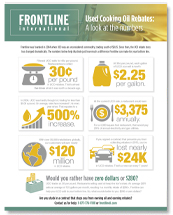 Below is a chart comparing some of our features to those of our competitors. In lots of cases, restaurateurs, grocery chains, c-stores and the like might consider our competition's oil management solutions. Some of these companies are really great service providers. Some we would gladly recommend to our customers! Lots of them use our products to complete the equipment side of their service bundle. None of them are manufacturers.
So please consider the chart below. And of course, feel free to contact us with questions at any time. Toll-free at 1-877-776-1100.
Note: This list is made to be used as a guide. Please consult individual companies to validate, verify, or research full product offerings.