M3 (Monitor, Measure and Manage) is a web-based add-on system that works in concert with all of Frontline International's cooking oil monitoring and management systems and can be accessed online any time, from any computer, digital tablet, or smartphone with an internet connection. The M3 system was a winner of the prestigious Kitchen Innovations™ Award from the National Restaurant Association in 2013. Take an inside peek at M3.
Fresh Oil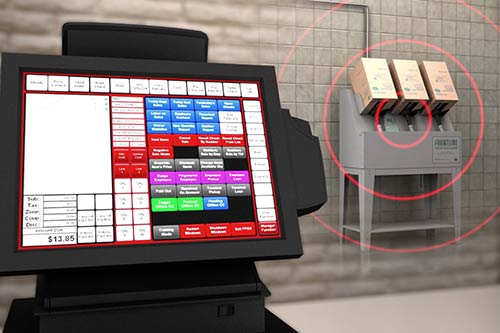 M3 can be used to calibrate quality. When M3 data management system is combined with the EZ Oil fresh-oil dispensing system and direct-plumbed waste oil equipment, you have the power to program your fryers to automatically top-off and filter oil—all in an effort to enhance the taste of your product and to ensure consistent results.
Now, every time an employee uses a fryer, the equipment immediately 'talks' to the M3 management system, which signals to the EZ Oil system precisely how much fryer oil to add to the vat.
The automated top-off feature ensures consistent results from batch to batch. The tool also works with a battery of fryers by reading the needs of each individual piece of equipment, potentially cooking a different product then the next unit in line.
Waste Oil
M3 makes it easy to track all statistics concerning your restaurant's waste oil data across any given time period. Using the M3 electronic dashboard, you can compare statistics daily, weekly, or monthly. You can also track oil usage and filtration, schedule oil pickups, and perform other diagnostics. Alarms can be set to automatically trigger emails or texts to headquarters, franchisees, oil collection companies, or multiple entities before your waste tank ever reaches the full status. As an added benefit to prevent oil theft, the M3 system allows you to lock the storage tank collection ports remotely via activation of the anti-theft valve, making it impossible for thieves to drain out the stored oil. If problems with your tanks ever arise, diagnostic warnings are sent simultaneously to both you and Frontline International's service technicians.