EZ Oil™: Own your oil, Not The risk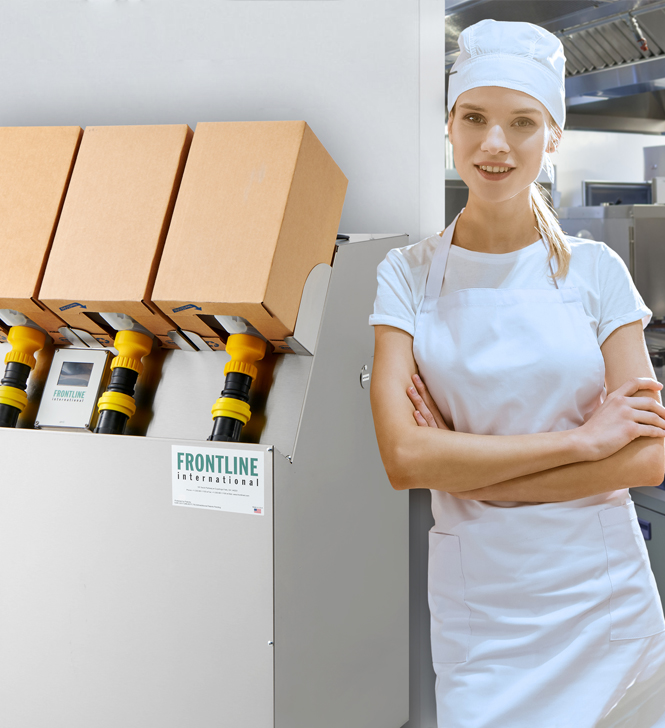 Filling a fryer should be easier. That's why we made EZ Oil™, a step forward in fryer automation equipment. With EZ Oil you can continue to buy boxed oil using your existing supply chain, but oil is automatically dispensed to the fryer vat — no more lugging, splashing or spilling fryer oil. And because you get to continue to buy your own boxed oil from a supplier of choice, you don't get locked into a contract rate like most bulk-oil-in-a-tank business models.
The EZ Oil™ Fresh Oil Dispensing System allows buyers of boxed fresh oil to stack fresh oil boxes on a space-saving storage rack, which is plumbed to the fryers. They can then fill their fryers with just a touch of a button. No contracts. Pure ownership. Real return on investment in as little as 12 to 16 months.
Still need bulk oil tanks? Frontline International does offer bulk fresh oil containment tanks. The difference is, we are an equipment manufacturer. We don't sell oil and feel restaurateurs should be able to negotiate with multiple suppliers, finding and locking in the best bulk oil rates.