Clearing the FOG
Frontline's array of collection equipment safely handles fats, oils, and greases from foodservice kitchens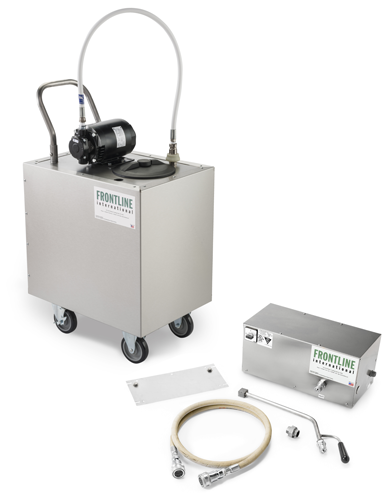 In London, fog is charming and dissipates naturally. But in the foodservice business, FOG is an inevitable byproduct of food prep, and disposing of it can be a constant hassle. FOG, of course, is the abbreviation for fats, oils, and greases, but its disposal doesn't have to be problematic. Frontline International has an array of FOG solutions, designed to suit foodservice businesses of any size.

Do you have a small, short-on-space convenience store? A challenging commercial kitchen on multiple levels or floors? Whether you are a small operator in food court, a university with fryers all over campus, or a stand-alone restaurant, Frontline International installs and integrates its FOG collection equipment seamlessly.
Many oil management systems are only concerned with fryer oil, but in busy commercial kitchens, fats, oils, and greases are also generated by many other pieces of cooking equipment. Grills, rotisseries, and convection and combitherm ovens must be considered as well. Frontline International makes collection equipment to handle them all. From Direct-Plumbed® systems to caddies, mobile tanks, heated grill grease systems, and filter machines, you can collect and dispose of fats, oil, and greases safely, smartly, and sustainably.
The Direct Plumb® Oven System connects directly to ovens and rotisseries. Its hose attachment plugs into the cooking units to automatically suction out fats and grease from the equipment's drip pan with no handling, dumping, or exposure to material required. Waste product is easily sucked through the hose and into the containment caddy. Simply wheel the sealed caddy over to your used oil containment tank and pump the collected grease out of the caddy and into the tank using the same hose attachment.
For FOG generated by cooking equipment scattered throughout a location such as a food court, grocery store, or university, Frontline International's Tank Tank mobile waste oil collection system (Model 74SS-NA) was specifically designed for these diverse environments. The 74-gallon Tank Tank is a safe temporary tank that acts as an oversized caddy system. Called Tank Tank because it's an oil tank and also mobile and rugged like a military tank, it can be easily wheeled to each location and accepts multiple deposits before needing to be emptied. Once oil is housed safely inside, it can be transported with no hazardous sloshing. It's locked in!
Frontline's engineers are the experts when it comes to the complexities of foodservice spaces. Whatever the size or shape your space, whatever your business hours or volume, they bring the experience and know-how to get you up and running quickly.
For more information, visit www.frontlineii.com.
About Frontline International
Frontline International, Inc. designs, manufactures, and distributes superior commercial foodservice equipment for the storage, handling, and disposal of cooking oil. Customers own their own equipment, negotiate their own oil rebates, and have the freedom to choose their own oil vendors. The company also offers turnkey oil management under its OilCare® bundled services program. Frontline International and its Smart Oil Management® systems offer users more freedom and more control over their processes and their profits. For more information, contact Frontline International, Inc. at 187 Ascot Parkway, Cuyahoga Falls, OH 44223. Phone: +1 330-861-1100. Toll free: 1-877-776-1100. Web: http://www.frontlineii.com. Email: info@frontlineii.com.